Tenants and the Western Whereabouts
"Finally!" some might cry out in relief. One of the most promising bands in Denmark these days, Magnolia Shoals, is about to release their debut album. In February 2015 the growing crowd of followers scattered around Europe can add nine new songs to the already cult hits "Looking for Love in Mengele" and "I Will Roam Again" from the 2011 EP 'Life Danced in the Flesh', when the band's first full studio album 'Tenants' is released.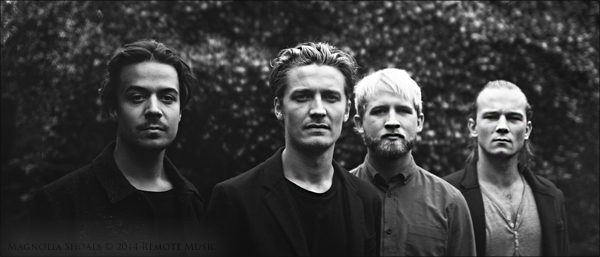 Magnolia Shoals – Samuel Medina, Nicolai Noa, Thomas Halkier and Kristian Lorenzen
The four Danes: Nicolai Noa (vocal), Thomas Halkier (bass), Kristian Lorenzen (drums) og Samuel Medina (guitar), have always tried to do things their way and with a pace that suits them and not surrender to hype and dive into the first offer served. If there's any link to this and the first single released "Western Whereabouts", we have yet to discover.
However, in an interview with the Danish music news site 'Undertoner' (Undertones) Samuel Medina explains the song as an analogy to the almost desperate search for a sense of belonging and the disappointment of never really getting there. A feeling commonly shared in the western world.
The Magnolia Shoals debut album "Tenants" is expected to release February 16, 2015. Latebar will be there with both ears ready.
Latebar-writer Anne Mette covered the release of the 2011 EP 'Life Danced in the Flesh' on New Year's day with an interview with Samuel Medina, when the band was known as the 'Wonder Rubber Stars'.
More about the band:
Magnolia Shoals on www
Magnolia Shoals on Facebook
Magnolia Shoals on YouTube
Magnolia Shoals on iTunes