Side Effects of the Danish summer 2014
The summer in Scandinavia is running out. But looking back at what was probably the most warm and sunny summer in the past couple of decades one thing sticks out. The collaboration between two of Denmark's most prominent young contemporary singer-songwriters and the EP that followed their joint-venture.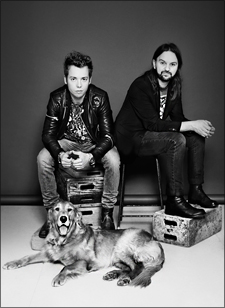 'Side Effects' it is called – both the collaboration and the EP. It came together when the Danish Muscular Dystrophy Fond asked Tim Christensen and Mads Langer if they could make something special for the annual summer festivals (Groen Koncert) arranged by the fond. Long story short – they both accepted and along came some of the best Danish-produced pop songs so far in 2014.
Together with Tim Christensen's old friend Marcus Winther-John (Inside the Whale) the two wrote four songs, making it five with the mash-up of Langer's hit "Fact Fiction" and Christensen's 1993-94 monster hit "Silverflame".
Having bass player Søren Balsner (Carpark North), drummer Birk Nevel (Shaka Loveless) and producer Søren Mikkelsen on board helped make the project even more intelligent and more than just two otherwise skilled guitarists steaming off into the horizon (no offense guys).
We heard notes of Crowded House, a whiff of The Beach Boys, and a clear scent of recent Nik Kershaw-works and felt ourselves carried gently through the ensemble's combined universes of upbeat melancholy and carefully managed guitar patterns. All tailored in a way, that left the lyrics being the prime driver. Well done!
Despite some slightly negative reviews in the beginning of their 8 live gigs in July, 'Side Effects' stands as an excellent example of the generation of Danish musicians born with Tim Christensen and co-writer Marcus Winther-John (et al). A generation counting all the above mentioned collaborators, and a generation characterized by immensely focus on quality, excellence, hard work and diligence.
Have you not come across this unique and makeshift duo yet Latebar will not hesitate to recommend a recliner, headphones, and a visit to either:
1) Side Effects on iTunes
2) Side Effects on Gaffashop.dk
3) Side Effects on SonyMusicShop
Thumbs up to Tim and Mads (and to Marcus, Soren, Soren and Birk) for making the most remarkable'Side Effects' of the summer 2014:
1) Bringing Back Tomorrow
2) Chasing Comets
3) Strangers
4) Side Effects
5) Fact Fiction / Silverflame (mash-up)
Tim Christensen & Mads Langer, Chasing Comets unplugged in DR-TV.
What made your ears happy this summer? Did we at Latebar miss something else truly brilliant (we probably did)?
🙂