Wonder Rubber Stars In The Flesh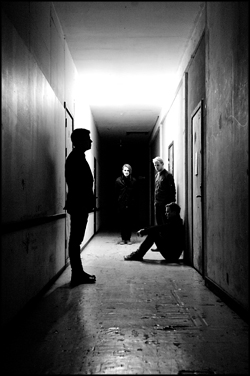 As 2010 has come to a close, and we turn the page to start a new year, we at Latebar want to celebrate some of the new music that promises to make 2011 an interesting year in music.
And behold – we bring you the Danish band Wonder Rubber Stars.
Wonder Rubber Stars (WRS) have high expectations for 2011 – and I have high expectations for Wonder Rubber Stars.
Their first EP "Life Danced In The Flesh" is released on iTunes tomorrow (January 2, 2011).
Since my last post about Wonder Rubber Stars, I interviewed lead guitarist, Samuel Medina, and later lead singer, Nicolai Noa, kindly shared the next two songs on the upcoming EP with me: "The Sun Poured Over" and "Throwing X's".
Again, I have to say this – Nicolai's voice is a chapter of its own. The sound, expecially on "The Sun Poured Over", reminds me of Robbie Robertson/The Band/Neil Diamond. Nicolai sounds like a peyote smoking Shaman – old and wise. Nicolai is not an old shaman. And he's not 21, as I claimed in my latest post – he is 19. He was 14 when the band started playing together, and even then his voice sounded older than his age, Samuel tells me:
"People usually expect to see a huge guy, and then this short dude walks in and you can almost hear their jaws drop. It's really funny!"
The band members met and started playing together in school.
"We practically grew up together, both as individuals and as musicians. The other three guys had known each other bascially always, and I met them at boarding school when I was 15. We hung out together, did everything together, and we still do", Samuel says.
The band first called themselves Wonder Rubber Stars, and from the start, the sound was pretty much what it is today. For a while they experimented with a different sound under the name Whitelights. (Which actually sounds pretty awesome, too.)
"But that didn't do Nicolai's voice justice, which was a shame, actually, so we eventually returned to Wonder Rubber Stars", Samuel explains.  "But it's an exciting process, and we hope that it comes across in our music and performances how well we know each other, both personally and as musicians. I think with other bands you can always tell when they've been through things together, and that's what we hope to be able to deliver as well. "
Recording music can be a real challenge if you can't agree on a direction, but the guys are always very aligned.
"Kristian [Lorenzen – drums and lyrics] and I write the lyrics, and when it comes to the music, it's 25% from each of us. It might take longer than if one person just showed up with a final version of a song, and the rest are just hired hands, so to speak. But it's well worth the extra time spent. The result is just so much better. For the most part, the vocals on the EP are all first cue takes for the songs. We did several takes on each song, but the cue takes turned out to be the most solid performances. They were just spot on."
The band has recorded other songs in various studios over the past few years, so they had some studio experience before starting the work on the new EP.  They met the producer of the EP, Thor Kortegaard, through one of the band member's mother.
"She had met 'this guy who owns a studio nearby', and she thought maybe we should contact him. At first we thought, no, we want to record in Copenhagen or Ã…rhus, and weren't exactly thrilled at the prospect of recording in a studio in the middle of nowhere. But then we met Thor, and the chemestry was just right. He is extremely professional, has a lot of experience and isn't afraid to tell us 'well, this will sound great live but it won't work for a studio recording.' Which is why it's so important to work with a producer who understands what it is you're trying to achieve. He really gets us."
2011 looks like a promising year for Wonder Rubber Stars. In addition to the EP release, concert dates have been booked in Denmark and Germany. The band is currently in dialogue with a record company. Future tour dreams include the UK and Benelux, and the ultimate dream is touring the US.
"Things are happening pretty fast right now and we want to roll with it. This is a perfect time for us to make the most of this. Everyone has finished school now, so we can really focus on making things happen now," Samuel concludes.
Check back later for a review of the EP. Until then, here is a taste of what awaits you:
Click to play Wonder Rubber Stars – 'Throwing X's'
[audio:http://www.latebar.org/audio/Throwing X's.mp3|titles=Throwing X's|artists=Wonder Rubber Stars]
And make sure you visit iTunes to buy the EP!
Wonder Rubber Stars are: Nicolai Noa (lead vocals and keys), Samuel Medina (lead guitarist, lyrics, backing vocals), Kristian Lorenzen (drums and lyrics), and Thomas Halkier (bass).