Seek Shelter and let the party Emerge
This post was supposed to be about the British pop legends 'Erasure', their new album 'The Violet Flame' and their December 10th gig in Aarhus, Denmark… But though the album is the best Erasure studio-album in a decade and their performance in Aarhus was totally flawless in every aspect, we are still a bit numbed in awe of another duo. The name is 'Shelter' and we think it's safe to say, they made a lasting impression in Denmark.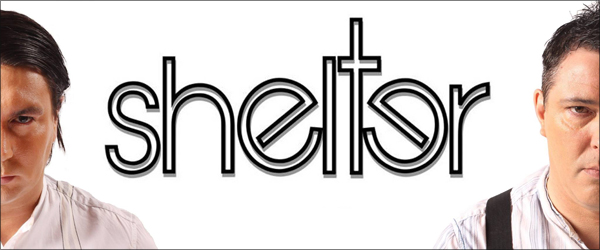 Being the warm-up act for established superstars is often an unrewarding job. The audience is not entirely focused yet – some might still be talking to friends or fetching beers at the bar. People are often unattentive and worst of all, they most often have no clue who you are and can't remember you after the gig.
But…
Seven songs in a mere half hour. That is all it took Rob Bradley and Mark Bebb to literally warm-up the 1,200 spectator venue Musikhuset in the city of Aarhus – leaving everyone dancing, clapping and cheering for more – surely making it easy for main act, Erasure, to ignite the potent blast of a party. Well done, guys!
Shelter possibly took their step towards a real breakthrough in Scandinavia by bringing something familiar to the seasoned Erasurean audience and then combining it with something distinctly self-made. Simmer down a bit of Kraftwerk and Visage with a bit of the 90s masters of digi-lounge, Air (Moon Safari), and then energize this stew with some positive upbeats, well written harmonies, and solid vocal work. Then you have a recipe for instant success. Rob and Mark are an electric profusion of good 80's and 90's sound made better.
Shelter and Erasure have, however, developed more than just a stage relationship. In May 2014 Andy Bell and Vincent Clarke were heavily involved in the project 'iPop' made by Shelter. Out of this project came, somewhat unexpectedly, the chart climber 'Beautiful' feat. Andy Bell's matching vocal. A strong alliance was formed in which both bands make each other better.
Shelter feat. Andy Bell – 'Beautiful'
The (short) Shelter set-list in Denmark was:
1) Fierce!
2) Blur the Lines
3) Diablo
4) Broken
5) Make Me
6) Neva Luv U More
7) Beautiful
Latebar strongly recommends readers just purchase the full debut album 'Emerge' right away. And by the way – the album is crowd-funded, so there's no chance this will remain cult for long anyway. 'Emerge' can be purchased here:
* Shelter in iTunes Store
* Shelter on Amazon
* Ministry of Pop (Shelter's own label)
Another European tour is rumored to be in the making. We will surely keep an eye on the concert calendar and hope for a full 2015-gig. If Erasure is unavailable as a warm-up, perhaps the Danish DJ 'Apian' might be a serious bet.