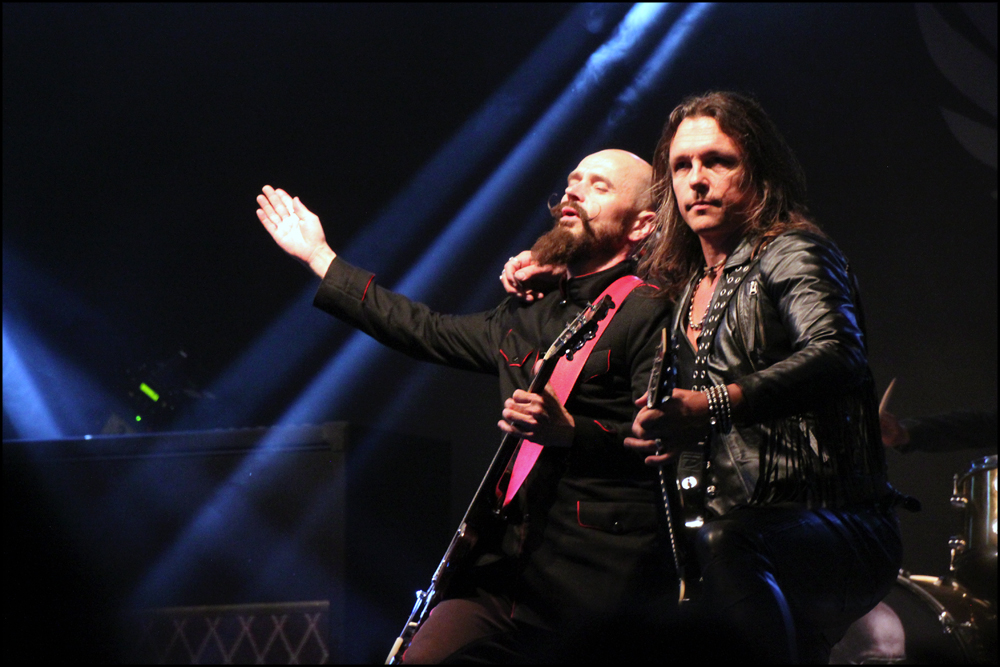 Enjoying the sound of Electric Guitars
New album from Danish guitar duo 'Electric Guitars' (EG) lifts the rocky outfit and its growing cult of dedicated followers into the rock'n'roll Major League. In 2021, the two "ax" heroes, Mika Vandborg and Soren Andersen, managed to create an album more distinct and unique than their prior three, giving fans their most clear-cut album to date. With some bulletproof earworms, the album 'Freewheeler' could be the band's ticket to a more international reach.
Let's do a quick recap.
Taking a step back
Not many Danish music acts make it big outside Denmark. But, those who do, usually have something unique to show for. Now another couple of Danes are on the doorstep looking out. Not really unique – but skilled as hell!
If you're not already acquainted – meet Mika Vandborg and Søren (Soren) Andersen aka 'Electric Guitars'.
In the ocean of new Danish publications in 2021, the duo's fourth studio album "Freewheeler" sticks out. It distills the paths rock guitarists Vandborg og Andersen have tread since they formed their guitar sanctum, Electric Guitars, back in 2012. And lets not beat about the bush – this album feels far better prepared than their prior three.
The two have formed a rather democratic commune around the brand, where all involved have a say, and where typical roles as lead-this-and-that are made obsolete. They enlisted drummer Morten Hellborn and bass man Peter Kjøebsted early on, and began working from day 1. A year later (on 9 September 2013) their first album, called 'Electric Guitars', was released to the record stores, and tracks like 'Four Leaf Clover' immediately caught on with the Danes.
Swaying between Glam and Grunge
Listening to Electric Guitars' early albums, you quickly find resemblances to other guitar-based bands and artists. The debut album oozes of both Glam, Britpop, an inkling of classic Rockabilly, and dare we say something utterly Lenny Kravitz-like. Not so strange, as Andersen and Vandborg openly admit to being huge fans of both Kravitz and Hendrix (as well as legends Angus Young, Steve Vai, Van Halen and Ritchie Blackmore). The album even ends with a song called 'Hero of Mine', where Andersen and Vandborg host some of the best guitarists in Denmark (like ever).
The same goes for the two guitar aces' second album, 'String Fever'. Spend a few minutes with the title track and tell me you don't hear some Hendrix/Kravitz in there?
This is, however, not at all a bad thing, as Vandborg and Andersen easily meet the challenge, and use the familiar sounds to create wonderful rock songs – schwiiing, these guys got chops.
As the duo worked through their material, more and more vocal work was added. Experiments tweaking Andersen's lead vocal along with adding more supporting vocal work gradually gave the duo a more distinct sound.
Finding the sound of 'Electric Guitars'
The title track for the duo's third album, 'Rock'n'Roll Radio', moved the band a bit more towards the other side of the world. With notes of AC/DC and the physical presence of both D-A-D brothers, Jesper and Jacob Binzer (the latter also produced the album) in the studio, Electric Guitars became slightly less pop-ish and ventured down a darker path with their expression.

Although, their first two albums were wonderful, the third attempt felt like a more coherent experience. Listening to the track 'Swagman', you get the feeling of a band that has now left the highway to create their own footprints in the sand – metaphorically speaking. We utterly love that particular song at Latebar. Not just because it's great. It's sooo Electric Guitars… no frills!
Original and better than ever
Several hundred live gigs (and a live album) richer, Andersen and Vandborg released their fourth studio production 'Freewheeler' on 12 November 2021, and though the title may allude to laziness and copycatting, it is anything but. In fact, it feels far more independent and devil-may-care than any of their previous works.
We are not shy to call this album the duo's best collective work to date and the best new rock publication from Denmark in 2021. Here's why:
First of all, the production work supporting the vocals on this album is downright awesome. It begs listeners to turn up the volume, play that imaginary air guitar and just sing along (loudly). Activate the player below, turn up the volume and listen to this album's title track, and let's spend a cold, grey winter evening imagining summer and festivals and everything before that f… farkakte pandemic.
The album holds 10 incredibly well-composed tracks, more unique and original than anything the band ever made before. Refining the vocal work and lyrics to match the superior and sometimes rather intense guitar work gives the duo an extra gear. Can't wait to hear this live!
Like a fairy tale by Hans Christian Andersen, Freewheeler has several layers. Regular music-loving consumers will enjoy singing along to the melodic 'Cut Loose' or 'The Rainbow' or letting out steam to the full-throttle album opener 'Dopamine', while connoisseurs will cheer to the surplus guitar craft buried in 'Zero Four' and 'Going Out' or the rather tenacious chord progression in 'Welcome History' – our favorite track.
In so many words, Electric Guitars' fourth installment has something for any and every hard rock music lover. This blogger as been through this album 25+ times and new details and things continue to pop forward. There's both a feeling of "what you see is what you get" to the set list – yet, the sheer substance and freight-train-power pacing it forward forces you to listen more closely; what we strongly encourage every true music lover to do.
Again -> This is the best rock album from Denmark in 2021. Period!
Now we just have to sit out the current pandemic before we can go get the REAL EG ride.
After all, rock music is best served live. We can't wait!
---
New to Electric Guitars?
Official Website: www.electricguitarsmusic.com
Spotify: Electric Guitars
YouTube: Official Channel