Carpark North – Flying Phoenix of DK
Even though the bandmembers of the Danish electro-rock trio Carpark North, Lau Hojen, Soren Balsner and Morten Thorhauge are only in their early thirties, they're slowly turning into well-established veterans on the stage. Currently the band and support musician, Anders Birk, is touring Denmark with their new album 'Phoenix' and as usual the band conducts their gigs as if it were their last.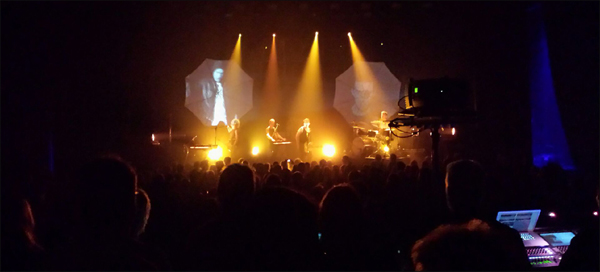 Carpark North @ Vejle Musikteater – photo: Ninna Ley.
Visiting Vejle Musikteater in the city of Vejle was no exception although a few things played out a little differently. First off the concept of having a local band do the warm-up gig is basically a great idea. It is risky, but the concept seemed to work in Vejle where local heroes 'Chasing Greenlights' literally succeed in warming up the crowd. Well done!
Secondly the presence of breathtaking ballads during the gig is a rather new concept for the usually full-throttle-through ensemble. Playing the brand new I walk on midway through the concert gave a certain depth reminding the audience that Carpark North is way more than just party, fun and computer games. Front man Lau Hojen's voice naturally holds a hint of pain (without ever turning into miserable lamentation). This turned into a breathtaking peak of the evening as he sang "The last end as the first of three encores.
Thirdly we here at latebar.org need to post a verbal rebuke on the incredibly self-conscious and almost bashful turnout at the gig. No other band in Denmark has made a habit of giving their fans and followers a good time sharing all sorts of stuff. Not many bands use social media to the extent this band does. CN even wrote a song paying tribute to their fans (Army of Open Arms). So dear Vejle, next time you attend a show in your otherwise wonderful venue, lose the tie and release your inner Renegade 🙂
Flying towards their 15th anniversary, Carpark North still flies like a Phoenix flying while burning. Nothing, however, suggests the band of three will burn out anytime soon. Despite the rather "heavy" crowd in Vejle, a professional and dedicated effort was delivered from the stage, and remarkably few glitches were noticed considering the complex execution of sound, performance, lights and video included. Thank you, Carpark North!
The initial Phoenix-tour runs until April 5, 2014, after which the band prepares for the festival season. Any gigs outside Denmark have not yet been announced.
The set list in Vejle was as follows:
1. Intro/Phoenix
2. Human
3. Burn it
4. Better of alone
5. Everything starts again
6. There's a place/Subusual
7. Renegade
8. More
9. You're my fire
10. I walk on
11. 32
12. Save me from myself
13. Shall we be grateful
14. Army of open arms
– – encore – –
15. The Last End
16. Transparent & Glasslike
17. Best days of my life