Part of the way with Nice Little Penguins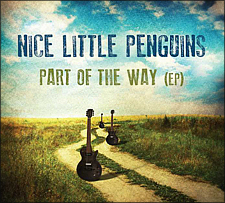 Apart from a single-chirp about a 'Peacock' in a garden, it has been six long years since the Danish masters-of-good-melody Nice Little Penguins published a song in English.
But earlier this summer the band announced that something was on the way. The single 'Grateful' boded well for a return to scenes and on December 5, 2011 the EP 'Part Of The Way' was released.
The single 'Grateful' and four brand new songs feature on the publication, and they bring back memories of the trio I heard in a small café (PC's) in Herning almost 20 years ago.
Although Søren Lund, Hans Henrik Præstbro and Palle Hjorth appear on the EP, NLP is back to the three-man line-up; Michael and Carsten Kolster and Bo Feierskov – the essence of what it was all about from the beginning.
'Part Of The Way' really is how the band sounds – The sound of Nice Little Penguins.
And as the title of the EP suggests this is only 'Part Of The Way' towards the new album.
Five songs made it onto the EP and they are all very, very different from each other.
'Grateful' has an unmistaken resemblance to the 1994 smash hit 'Flying'. But as the song progresses into bridge and chorus you are no longer in doubt. This is a completely new song and a potential new crowd-pleaser at the 2012-festivals, no doubt.
'Sleepy Sunday' is the strongest of the new songs, in my opinion. A true NLP-song with all the large major 7 (or 9) chords and beautiful Beatles-like backing vocals that the three do so well. 'Sleepy Sunday' is good enough to sell the entire next album.
'Bless This Land' is a peculiar little piece that requires the listener to sit down, shut up and listen a few times. With a soft Tom Petty touch, guitarist Michael Kolster leads us through something as rare as a political statement. It suits the band very well indeed and is done balanced and without being completely subversive as in the 60's and 70's.
'I Am Cupid' – Roy Orbison didn't live in vain. I really had a hard time figuring out what this song is about – but about love itself. The personification of 'love' or Cupid wrapped around a very well played song. All I can say at this time is that I'm dead sure a hidden tape with some VERY entertaining recordings of this song is hidden somewhere in Bo Feierskov's attic.
'Crazy Love' – here's another really typical NLP-song. No redundant fills. With a slightly more Beatles-touch it might as well be a song from the second or third album. And in some way this wraps up this EP nicely.
All in all – This is EP is not complete. It is… Part of the way. And it doesn't have to be more at this time. Overall I really like the direction it sets out. It's going to be very interesting to see and hear the full album due in the beginning of 2012. Are we to bet, I'll put my money on 'Very, Very Good'.
Just to set expectations where they belong 🙂
Latebar's recommendation —> Buy the EP:
@ Amazon
@ reStorm
@ iTunes
More about Nice Little Penguins:
– Nice Little Penguins (official website)
– Nice Little Penguins on Facebook
– Nice Little Penguins on MySpace
– Nice Little Penguins on Wikipedia (DK)
– Nice Little Penguins on Wikipedia (EN)
– – – – – – –