Soluna Samay sings out loud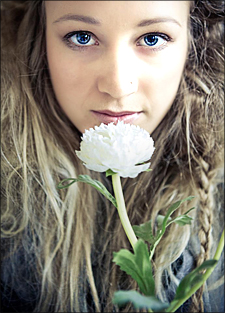 Shooting star Soluna Samay, who recently won the Danish ticket for the Eurovision 2012 in Azerbaijan, is not at all new to the stage.
Not only has she been performing, touring, and playing music with her dad, Gerd G. Kettel (Gee Gee Kettel) since childhood, she has already published an EP – 'I wish I was a Seagull' – in 2006, and her first album – 'Sing out loud' – in 2011. And to those of you who like her Eurovision bid 'Should've known better'… You have heard nothing yet!!!
Personally I've had a weak spot for American songwriter Sheryl Crow since I saw/heard her in 'All I wanna do', playing her Ocean Turquoise Fender Stratocaster.
Listening to 'Sing out loud' I get a similar feeling of comfort, ease and swinging excellence as I did listening to the early Crow-albums. I'll get back to that later.
I see two reasons for this, as it is:
1) Samay really has immense potential and knows what she's doing.
2) Samay is surrounded by some of the very best musicians in Denmark.
Taking a dive into to 'Sing out loud' a few names jump from the sleeve. First of all producer Michael Friis is regarded as one of the most important bass capacities in Denmark. He plays another key part as Samay's personal bass teacher, and his vast knowledge and understanding from more than 40 years among the very best musicians in Denmark, have surely rubbed off on Soluna Samay – a lot.
The album was recorded at the Baltic Records studios on the island of Bornholm. The label is owned by Jesper Mejlvang, who has throttled down a long career with an extensive list of music celebs (most famous; Robert Palmer) to focus on producing and refining young talents. Mejlvang, like Friis, plays on the album.
Other Danish top names playing on the album are: Jakob Andersen (percussion), Ole Kibsgaard (guitars), Lars Juul (drums), Troels Skovgaard (guitars) and Maria Sita (backing vocals).
And finally daddy, Gee Gee Kettel's harmonica suddenly pops up on the track 'Pipe Dream'.
And now back to the Sheryl Crow sound. This is the only weakness this album has (if it can even be considered a weakness to sound like Crow). Several tracks bear resemblances to the famous Missourian to an extent that it might confuse the listener. It is shame, because the album is so all-over well made and played. After listening to all 14 tracks, however, my recommendation stands abundantly clear:
Go buy this album! – (Buy it @ SolunaSamay.com)
I really like all tracks on 'Sing Out Loud'. But where this young star shines the brightest is in the beautiful 'Like A Rose', and the very, very intense 'Winter Song' where Mejlvang's piano and Friis' awesome fretless bass support Samay's fragile words excellently. My all-over favorite piece, however, is 'Number 24'. Its smooth reggae-beat reminds me of the Caribbean and makes me long for another visit there.
[audio:http://www.latebar.org/audio/Soluna Samay – Number 24.mp3|titles=Number 24|artists=Soluna Samay]
Tracklist is as follows:
1. Two Seconds Ago
2. Insanity
3. My Own Medicine
4. Everything You Do
5. Pipe Dream
6. World in Colors
7. Mama
8. Like a Rose
9. Sing Out Loud
10. Number 24
11. Do You Understand Me Now
12. All This Time
13. Winter Song
14. See You in June
Thanks for reading this far "south". Now, tell me this girl hasn't got star potential 🙂

Soluna Samay – 'Everything you do'.