George Ezra spread stardust over Jelling
As always, the music festival in Jelling, the old Danish viking capitol, draws in many interesting artists – both Danish as well as international. 2019 was no exception, and though the year will be remembered for its overwhelmingly good sound quality (at least by us), a few names sticks out as being extra special.
There is no denying. The 'Jelling Musikfestival' has become a favourite for this blogger. For more than 25 years we have attended this festival season starter, and every year we have been amazed by how this festival has managed to stay calmly out of the race for the hottest new billboard names, and still sell more than half its entry passes up front – without even announcing one single name.
Well, in parts the answer to that lies in the extreme focus on the guests – performing as well as consuming. Everybody seems to know exactly what they are doing. And they are always smiling!
We know from the backstage areas, that all performing artists are well taken care of. And like with the folk music festival in Toender in August, artists keep coming back, once they have been there.
George Ezra surprised everybody – even himself
One of the artists in the 2019 programme we really want to see again is George Ezra. With a set of truly amazing songs the young (26) Brit totally and utterly set the mood for the entire festival. To make music able to please party-starving Scandinavians and satisfy the musical feinschmeckers is quite a task. However, Ezra's delivery was sublime and very, very well played. No spectacular light-FX. No frills. Just craftsmanship – We love it!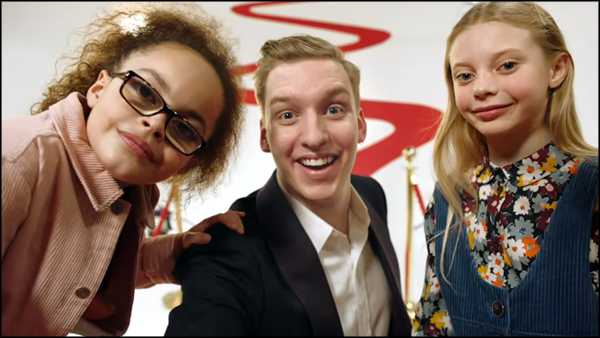 The fact that the crowd were singing along right from the start – even to the relatively new tracks, such as 'Pretty Shining People' – seemed to surprise even Ezra. Several times he addressed the audience, using the word 'Wow!' and looking honestly astonished. Doesn't this guy realise just how popular his is?
Tunes, like 'Don't Matter Now', 'Get away' and 'Paradise', worked extremely well live, and the free and friction-less moving between pop, folkish indie, with notes of latino and even world music, made the experience very interesting and memorable.
No doubt, George Ezra has potential to become a mega-star, and holding my girl to the ballad 'Hold My Girl' I felt tremendously privileged to have this particular Hertfordshire lad adorn the main stage of the festival we love.
Danish duo delivered best gig of 2019
Almost 30 years ago the singer Dicte had national fame as the lead singer of the band Her Personal Pain. By that time another singer, Claus Hempler, already held equal celebrity status as front man of the highly successful band Fielfraz.
In Jelling they surprised a crowd of true music connoisseurs with a near perfect set. Some artists just have the nerve, stamina and raw skill to pull of the impossible. Dicte and Hempler are such artists. Flanked by Danish guitar legend, Mika Vandborg, the duo knows how to utilise and explore every little mysterious nook and cranny of music. Taking the audience by the hand and leading them safely through some "dangerous pits".
Music-wise Dicte and Hempler are bigger than Denmark! Nobody else has that sound and nerve around here. Nobody dares! Bravo and thanks to the Jelling Festival for adding the duo to this year's menu.
No year without debuting stars
The stage called 'Ny Scene' (literally 'New Stage') has always been easily overlooked by guests at the festival. However, in recent years management has given venue more attention, and this year it was significantly improved to the benefit of both artists and crowd.
Two new names on the Scandinavian stage helped inaugurate the new 'Ny Scene' this year – Nicklas Sahl and The Grenadines.
Sahl recently became an instant radio star and this summer's "talk of town" with a series of sweet and truly well-written songs, such as 'New Eyes' and 'Hero'. And the popularity was visible with fans filling up in front of the stage in no time.
While 22 year old Sahl has already gathered a huge crowd of radio-listening followers, The Grenadines is an ensemble organically growing its fan base. It consists of five gifted young musicians, working their way to the hearts of their audience through live performances and social media. The Grenadines, previously featured on Latebar, makes surprisingly catchy and wholesome pop songs – a recipe that might show to have a longer shelf life in the long run.
One such well-composed pop song, called 'Summer Sun', was played for the first time in Jelling. It surely is destined for success across Scandinavian festivals this summer, in our opinion.
Other bands worth mentioning
Running through all the wonderful concerts we witnessed at this year's festival in Jelling would wear you all out. In chronological order we attended:
Wednesday: Bikstok, Christopher, Nephew, Saveus
Thursday: Poul Krebs, Michael Learns To Rock, Nicklas Sahl, The Grenadines, Little Steven (US), George Ezra (UK)
Friday: Dicte & Hempler, Hjalmer, Gnags, Folkeklubben, Nik & Jay
Saturday: Søren Huss, Lars Lilholt, Lightwave Empire, Rasmus Walter, TV2, The Pretenders (UK/US), ZZ Top (US)