Kravitz with love and raised vibrations
A surprisingly cold evening in May turned significantly less so for 12,000 assembled spectators in the Danish city of Horsens. The American superstar, Lenny Kravitz, paid the venue 'Faengslet' a visit, offering warm-heartedness and a catalogue full of extremely well-played songs – new and old.
For discerning music lovers this day truly became a night to remember, and even though gusts of chilly wind tried to kill any spark of joy among the crowd, the star of the stage turned on his supernova power heater and delivered what to this writer was among the most complete concerts in years.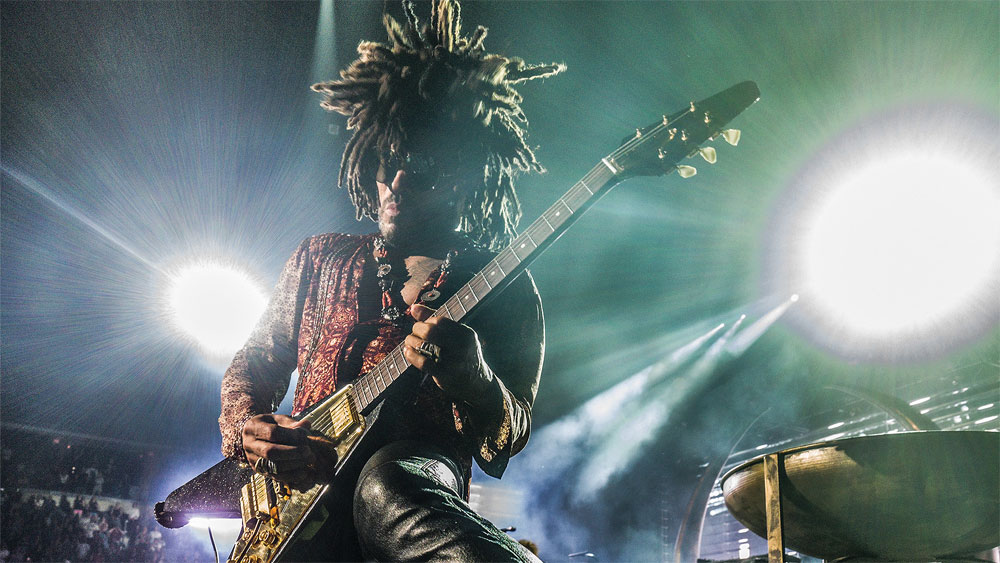 Everything came together perfectly
It is in fact rare that everything just rocks 100% from the start at open-air live gigs. But, this Saturday was one of those rare occassions. Kravitz, looking better than ever, entering the stage with full power guitar on 'Fly Away' and a near flawless sound. It was like the chilly wind lost its breath for a minute or two. Not since a Sting-concert years ago have I witnessed such a perfect start.
The now 55 year old multi-artist from New York delivered a perfectly balanced set, where everything just came together as puzzle pieces.
Flanked by old friend and guitarist Craig Ross and former David Bowie bass-goddess, Gail Ann Dorsey, Kravitz gave countless examples of his vocal range as well as his impressive musical abilities. From high pitch softness in 'It Ain't Over Til It's Over' to full throttle Hendrix in 'Are You Gonna Go My Way' or total rockabilly in 'Where Are We Running'.
Dorsey lavishly feeding every song with gorgeous patterns – one more tailored to perfection than the other – and Ross filling in sublime guitar solos with such optimal precision, regardless of the song's genre; rock, blues, reggae or funky R&B. And on top, a trio of horns adding just the right amount of soul to pie.
Love, peace and more love
It was clear, Kravitz holds his fans close to his heart. Could he hug everybody, he'd surely do it. Several times during the show he poured love over the crowd and consequently calling us 'brothers and sisters'. What would be interpreted as a superficial gesture, where it coming from anyone else, felt utterly sincere. Audience approached from the very edge of the stage. He really meant it!
Besides, who can argue – the world needs more compassion, tolerance and understanding. And if the means to get there, is a song by Kravitz, I'm all on board!
Tour de force of skill and variation
As mentioned above, Kravitz gave numerous examples of his remarkable talent, taking the crowd through several different musical genres. During the two-hour show, I felt the presence of late giants, such as Jimi Hendrix, David Bowie, Bob Marley and Michael Jackson.
The latter was praised by Kravitz from the stage after finishing the song 'Low'. The song was originally intended for Jackson, who sadly never got to recording it before his death. Kravitz, however, did the track himself and were allowed by the Jackson estate to add Michael's voice to it!
It is nothing short of gorgeous, and the delivery on Saturday was sublime!
Actually, the only negative thing to complain about this Saturday was the length of the queue to the coffee stands. I'd defy the bitter chill any day to go to another Kravitz concert… Just bring more coffee stands!
Kidding 🙂
The superior setlist included:
– Fly Away
– Dig In
– American Woman
– Fields Of Joy
– Freedom Train
– Who Are Really The Monsters
– Stillness Of The Heart
– It Ain't Over Til It's Over
– Can't Get You Of My Mind
– Low
– I Belong To You
– Bank Robber Man
– Where Are We Running
– Are You Gonna Go My Way?
Encore:
– Let Love Rule
"What ever the question is, whatever the time, love is always the answer!"
– Lenny Kravitz