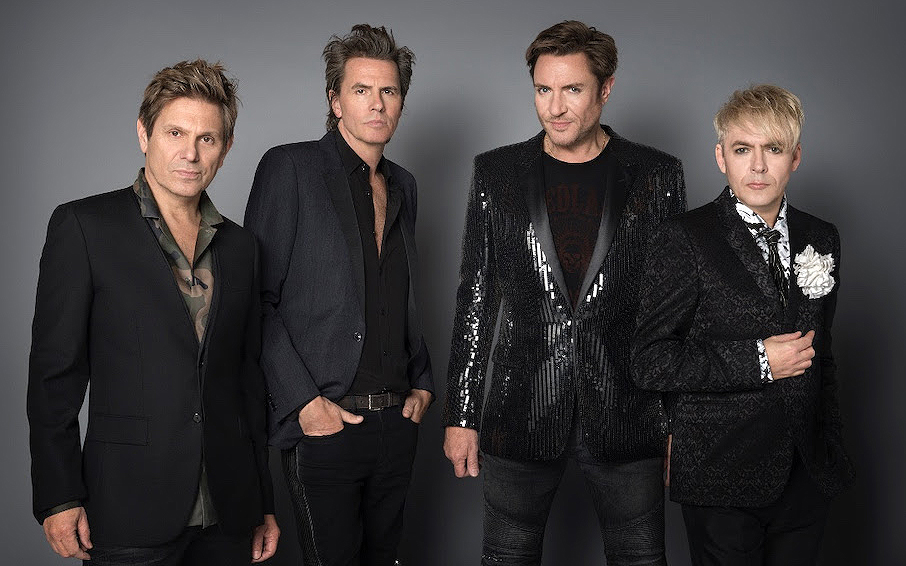 The Future Past of Duran Duran
The 15th installment by the British kings of pop, Duran Duran, once again underlines the four Brummies' importance to the British music industry. With a loyal anchor to its '80s original sound the quartet brings along several young artists to help point the brights forward – into the future. No other artists master that like Simon, Nick, John and Roger do. The album 'Future Past' simply is the sound of England 2021.
It has been six years since the latest album by the four British masters of pop was released. This is slightly longer than the fans are used to wait. However, a global pandemic came in the way and upset the applecarts for everybody – also bands from Birmingham. But, now the Future Past is finally here.
The coolest guest list so far
Duran Duran has always been open to inputs from fellow musicians when recording. Most dedicated fans cherish the band's 1986 album 'Notorious' for the input by guest guitarist and producer Nile Rodgers. The same goes for the clear and unmistakable sound of producer Tom 'Timbaland' Mosley on the album 'Red Carpet Massacre' from 2007.
In later years Mark Ronson, a superstar in his own right, has conjured pure magic behind the buttons on DD productions 'All You Need Is Now' and 'Paper Gods' – also with superior results.
On 'Future Past', the guest list extends to count a whole series of interesting names. First of all, having pop-legend producer Giorgio Moroder on board is a giant scoop. The man once called the 'Father of Disco' by The Sunday Post has worked with almost everybody who's anybody in the past half century, such as: David Bowie, Donna Summer, Electric Light Orchestra and… the list goes on. Moroder and Duran is a match made in heaven, if you ask this blogger. Nothing this man touches goes south!
Inviting former Trash-club owner and master DJ, Erol Alkan, also adds quality to the mix. It surely enrich the disco core of this new production, making several songs, such as 'More Joy!' and 'Anniversary' obvious dance floor favorites. We'll get back to both songs further down this post.
Reading through the list of credits several other artists appear. First and foremost, it is a tremendous home-run for Scandinavian fans to have the Swedish queen of dark pop, Tove Lo, on a DD album. Her signature soulful voice adds so much to the track 'Give It All Up', that it leaves you craving for more… so much more!
Many fans of David Bowie will find solace in hearing legendary Mike Garson's piano again on the track 'Falling'. The American pianist assisted the Brummies on their Bowie tribute 'Five Years' earlier in 2021, and now he once again lends a hand (or two). Boy, does it work here too!
Some more peculiar choices in guests emerge from the credit list of Futute Past too. To invite rapper and influencer Ivorian Doll (Vanessa Mahí) seems rather odd at first. But, once you listen more closely to the track 'Hammerhead' it makes sense. Drawing a line from the 23 year-old sensation's social media revelation, you suddenly don't really know whether to find her soft, inciting voice "I'm coming for you" a tempting and lewd invitation … or a threat!

The more you listen to the lyrics of the song, the more it strikes you just how many contextual layers it holds and then; just how good a poet Simon Le Bon really is. This song really is a shark lurking in the deep.
This blogger's favorite guest on this album comes from Japan. Yes, there's a first for everything! But, knowing just how big a fan crowd the band 'Chai' holds in Japan, one wonders why that never happened before. Hopefully, their appearance on 'Future Past' will help the all-female band build a European fan base too. The track also holds a contribution by Blur-guitarist Graham Coxon.
Connecting the present to the past
What converts 'a good an genuine' DD album to a 'truly great' album is the quartet's ability to embrace and span across the decades. Where 'Invisible', 'More Joy!' and 'Tonight United' display the band's present, songs like 'Wing', 'Nothing Less' and the title track 'Future Past' take mature fans back to the careless memories of the '80s – no pun intended.
The latter a spectacular ballad, bound to provoke a tear or two under a sea of lit cell phones during live gigs.
Saving the best for last
Promotion of this album has revolved a lot the 'Anniversary' theme, as the band celebrate its 40th anniversary since the first album, 'Duran Duran', in 1981. First single 'Invisible' came out 19 May 2021 as to remind us all, the band was still here, progressive and not dwelling past success. On 5 August 'More Joy!' was released quickly followed by 'Anniversary' on August 31. On 24 September 'Tonight United' came out and just prior to the full album was released, 'Give It All Up' was presented as a single (20 October 2021).
Those five singles in a way covers any and every sound of Duran Duran through the ages, starting with the very new, innovative, and almost futuristic 'Invisible', moving back to the beginning of the century where J-pop was introduced in the west – 'More Joy!', running back to the funky John Taylor bass play in 'Anniversary' – a signature sound of DD since 'Girls On Film', returning to the '90s with the timeless and universal Morodor-vibe in 'Tonight United', and leaving the listener at present day with one of the hottest and hippest female artists of now, Tove Lo, in 'Give It All Up'.
This blogger's favorite track on the album has not been given much attention (yet). The song 'All of You' is not only an incredibly strong track, it somehow covers the sound of Duran Duran through all four decades. Roger Taylor delivers another well-dosed cocktail of traditional and electric drums, while bass-man John stuns the floor with some killer bass licks. On the keys Nick Rhodos gently mix synth strings with grand piano, supported by some floating guitar to support Simon Le Bon's balanced lyrics and still awe-imposing vocal work. All as if no time has passed at all. That is immensely strong and would make a brilliant live experience.
In so many words, 'Future Past' is very strong, unique, and an utterly timeless album. Subjectively, as good as 'All You Need Is Now' from 2011 and maybe as defining as the band's 1982 hallmark, 'Rio'.
'Future Past' contains the following songs:
Invisible
All of You
Give It All Up
Anniversary
Future Past
Beautiful Lies
Tonight United
Wing
Nothing Less
Hammerhead
More Joy!
Falling
Enjoy more!