All you need is Duran Duran
It is quite poetic!
On the 30th anniversary of the death of John Lennon – one of the greatest musicians since Mozart – Britain's most successful band since The Beatles, Duran Duran, releases the first single 'All you need is now' from their upcoming 13th album.
Coincidence or not I chose to look at it the same holistic way I'm sure John Lennon would have done – that it is all together a reminder of the fact that our own time on this planet is brief and that we all should enjoy and appreciate the 'now' much more. Because that's really all you need!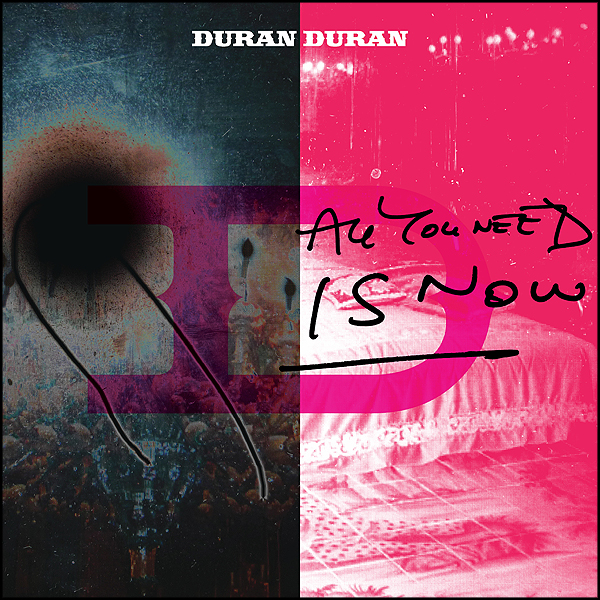 'All you need is now'-cover made by Clunie Reid
Enough of the overly philosophical discoursing here. Fact: They've done it again!
Duran Duran once again let a young musician into the studio to play. This time shooting star Mark Ronson was welcomed inside to produce.
May I just pay my undivided support and appreciation for that decision. Letting young guitarplayer Dom Brown in to pick up the plectrum after Andy Taylor, who left the band (again) a couple of years ago, was an excellent choice that showed exquisite taste. Later letting Justin Timberlake and Timbaland produce the latest album 'Red Carpet Massacre', was perhaps one of the bravest decisions in many years, leading to a superior album. With Mark Ronson onboard this time the link to the next generation is made.
Let this be a reminder: This is the way to continuously develop an established sound, keeping it alive and interesting after 30 years. (If in doubt, ask David Bowie.)
'All you need is now' is a hit! At least it should be. I'm sure the hardhitting synthetic intro will make a brilliant lift-off to every concert on a hopefully very long tour in 2011-12. One really needs to be very rhythmically disabled NOT to be jumping like a Mad Hatter with the rest of the crowd just one minute into the gig, singing the very melodic chorus:
and we will sway in the moon
the way we did when we were younger
(when we were younger)
when we told everbody
all you need is now
stay with the music let it
play a little longer
(a little longer)
we don't need anybody
all you need is now

There can be absolutely no excuse for NOT giving this first single 5 of 5 stars. Although I have a strong feeling something even greater is in store for duranies around the world.
Stop reading – go fetch this piece of British brilliance on iTunes for free (at least in some regions) … now!
((Thanks to Simona Barberis for being such an angel – Grazie, Bella Donna))