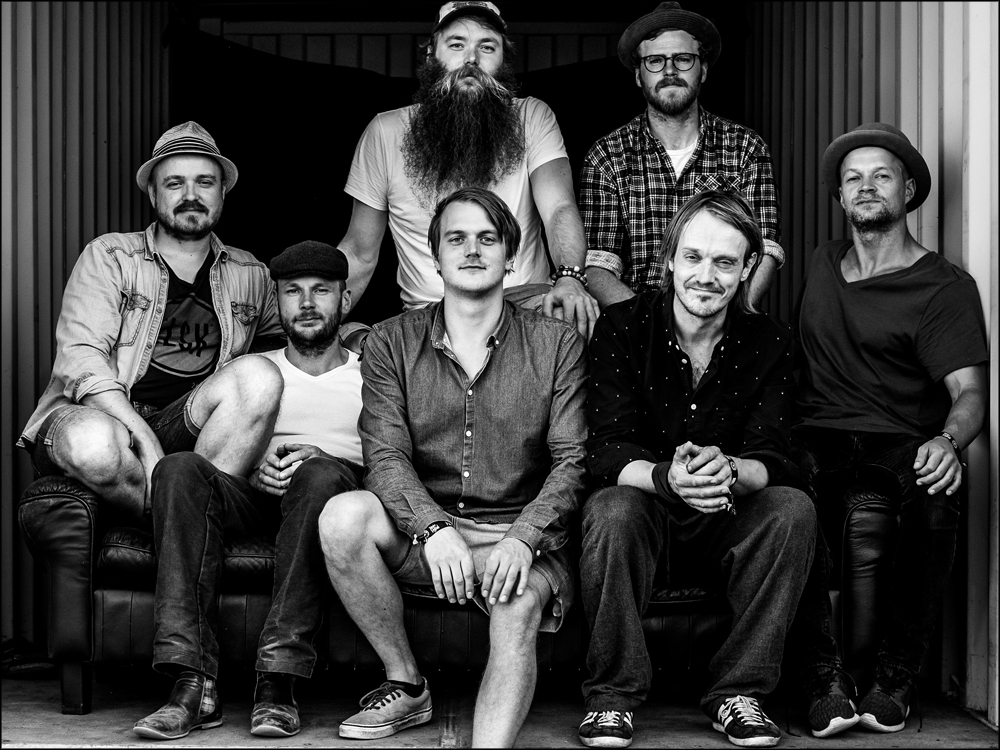 Jonah Blacksmith – more than 'Brothers'
With their third studio album Danish folk-rock champions Jonah Blacksmith tell a warm-hearted story about being brothers; not only in the sense of being related by family as much as being in something together – for better or worse. It works and is perhaps the seven-man band's best publication to date.
We'll get back to that shortly…
First, a quick Jonah Blacksmith history crash course
In the roughest and most windswept corner of Denmark, two brothers and a cousin decided to start a band. The year was 2011 and the region of Thy, being the only part of Denmark completely open to the North Atlantic Sea, wasn't the most likely place to find gifted musicians for the ambitious trio. But where there is a will there is a way, and in 2014 the band counted seven members, all anxious to release their debut album 'Northern Trail'.
With a brand-new and uncharted mix of folk and rock, inspired by their banjo-playing grandfather, Johannes (Jonah in English), who was in fact a blacksmith, they completely took the Danish music establishment by surprise. Songs like 'Dandelion' and 'I Am King' quickly became A-rotation at radio stations across Denmark, and the Danes showed up in large crowds at every concert.
The follow-up that blew everybody into the North Sea
There is only one thing harder than breaking through as a musician, and that is to do the follow-up album to a successful debut. However, sticking to their regional folk tradition and a rock-solid gut feeling Jonah Blacksmith made a second album, all striving artists must envy.
The album, simply called 'Jonah Blacksmith', featured 10 tracks all worthy of singles in their own right. A stunning and almost incomprehensible achievement. Together the 10 tracks formed a clear statement:
Jonah Blacksmith is here to stay!
We are the kids of the Northland
Where waves and hearts beat as one
Playing in the warm sand
Tracking roe deer at the break of dawn
In a time that once belonged
In a place where we were young
This is our Northland
This is home

From the song 'Northland' by Jonah Blacksmith
Through a palette of tuneful tracks, such as 'Once You Love', 'Ghost', 'Northland', 'Downtown', 'A Song to the Sea' and not least 'Daughter of Jonah', the seven-man-outfit elegantly pays tribute to a musical heritage often overlooked in a business, striving to mostly sound like British or American rock traditions. Folk music has local twists and distinct phrasings in every region of the world, and storytelling has always been a key component.
For example, the song 'Daughter of Jonah' is the band's way to pay tribute to their aunt Kirsten, who always took care of them as kids, even tried to teach them the basics on the guitar. But she never had the blessing of having children of her own. It is not only heart-breaking, it also shows tremendous format. Listen to the song, and tell us if it doesn't get to you!
Brothers – through thick and thin
On 23 October 2020 Jonah Blacksmith published their third studio album; this time taking on theme of being siblings – being 'Brothers'. The album is another trip down memory lane. However, it is also a contemplation of life as it is. In the Danish music magazine 'Gaffa', the two founding brothers Simon and Thomas Alstrup explains how you as brothers are made of the same stuff, and despite quarrels and heated arguments you always have each others back when things get serious. To underline the message of the album's title track, the band used old footage of the two brothers to create the video. Past meets present. It works!
In fact, the whole album works. Already before 'Brothers' came out the songs 'Honey', 'Dreams', and 'Monster' was released as singles and has been played by radio stations, raising expectations of another entrancing Blacksmith production. And the Norsemen of Thy did not disappoint.
With the usual foundation of banjo, mandolin and guitar, Jonah Blacksmith manages stay true to their sound as well as to spice it up with new nuances. For example, in the song 'Earthquake' where soft church-like choir is mixed with secluded guitar, while dry bass picks gives it an almost Peter Gabriel-like feeling. It works amazingly well and shows clear surplus of artistic aptitude. Bravo!
Jonah Blacksmith has also become an increasingly popular act on venues and festivals – not only in Denmark. The new album contains songs, that surely will make huge festival crowds sing along, satisfying concert organizers once more. A track like 'You Don't Know Yet' offers a sterling match to fellow folk-brothers and uncrowned sing-along champions of Ireland, Hudson Taylor.
So here we are. Three studio albums out, Jonah Blacksmith is perhaps the most export-friendly commodity Danish music currently has to offer.
We have added 'Brothers' to the list of 'Latebar Album of the Year' nominees, and we really can't wait for the raging world pandemic to end so we can go out and enjoy this fabulous ensemble live.
'Brothers' features the following tracks:
Stories
Monster
Brothers
Dreams
Earthquake
Weapons
Honey
Saint Mary's Cathedral
You Don't Know Yet
Right Here