Best thing about Ricky Martin is… me?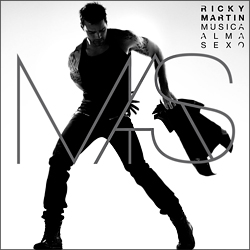 It's been almost six years since we heard a sound from the Puerto Rican superstar Ricky Martin. But on February 1st the world will be 13 latin-inspired pop-tunes richer as the album 'Musica+Alma+Sexo' releases around the world.
During that time at lot of things has happened to the ever-smiling 39 year old Martin. He's become a father of twins, come out as gay, changed political side from Republican to Democrat and thrown himself into the battle against child exploitation and trafficking with his Fundación Ricky Martin.
And I don't think it's only me. You can hear it in between the beats and lines – Ricky Martin has matured a great deal. And it suits him really well!
First single 'Shine' from the album was released just before Christmas 2010, and just yesterday (January 10th, 2011) the video for 'The Best Thing About Me Is You' was released. A straight forward Ricky Martin-song and lovely duet with the awesome Joss Stone – and a song that also comes in an even better spanish version feat. Natalia Jimenez* (Lo Mejor De Mi Vida Eres Tu).
I don't know what Ricky Martin does to you. But sitting at work looking out on the ever-so-grey winter sky hanging low over Denmark, 'The Best Thing About Me Is You' surely brightens my day significantly for the full 4 minutes.
*) Fun trivial info: Ricky Martin and Natalia Jimenez shares more than just the song 'Lo Mejor De Mi Vida Eres Tu' – they're both born on Christmas Eve. Ricky in 1971 – Natalia in 1980.