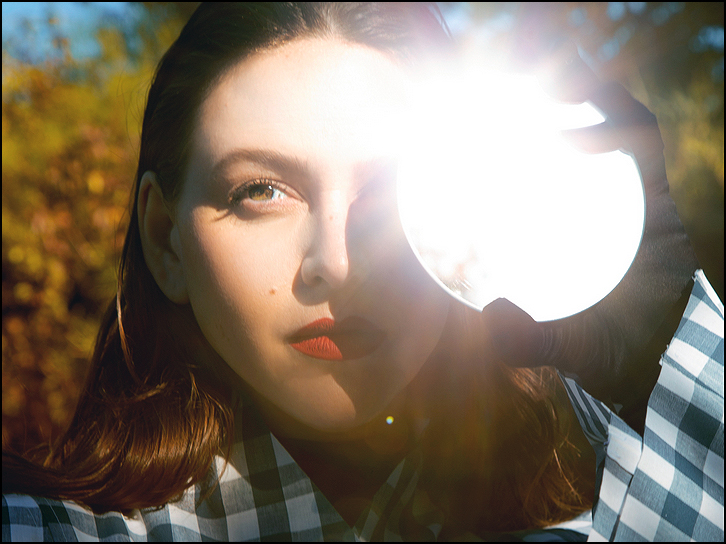 Fallulah with all eyes open
In Denmark we are blessed to have a growing number of female musicians and songwriters able to reach international audiences. You may already be familiar with artists such as 'Oh Land', 'MØ' and 'Tina Dickow'. However, the far most interesting name right now is 'Fallulah'.
The 35-year-old Danish-Romanian woman behind the melodic name just published her fourth studio album (13 November 2020), and after a decade of roaring success in Scandinavia, this veritable crowd magnet is ready to serve audiences outside our all-too-tiny corner of the world. At least, that's our opinion!
Staying true to her unique hallmark
The album 'All My Eyes Are Open' is, in many ways, a typical Fallulah production. Since her debut in 2010, traditional pop with a twist of Eastern Europe gypsy folklore has been a unique Fallulah brand and this fourth installment is no exception. With every album this rather festive recipe has been refined ever so much, and the new album excels beyond the previous productions when it comes to depth and composition of the individual tracks as well as the solidity of the overall album statement.
In 2016, Fallulah blew a hole in the wall with the smash hit 'Perfect Tense', a first bash in a new deal with Instant Records and Raveonettes' producer, Richard Gottehrer. But where the album bearing the same name toned down the dance-friendly folk seasoning, 'All My Eyes Are Open' turns this rather phenomenal twang back up.
Let's just say it – We absolutely love it!
Bring heart, ears and legs to the dance floor
Apart from the sound of Fallulah, a sudden urge to dance is what strikes you when you listen to this album. In many cultures it is an almost statutory part of the folk music tradition to encourage people to dance, and Fallulah certainly brings this to the party. The song 'Bloodline', a substantial radio hit in Denmark for the past year, will definitely be a supreme party starter at venues and festivals during 2021.
The same goes for 'God Bless You'. It somehow resembles the best of all-time superstar Madonna, and the groovy construction and extremely sing-along-friendly chorus will surely leave future audiences singing long after the artist has left the stage. Seriously playful and destined for A-rotation.
Some of the same qualities you find in 'Scared of Love' (our favorite). For new listeners wanting to get a sense of the Fallulah sound, this is a good place to start. The pumping bass and the warble guitar together with some intense and succinct vocal work creates a harmonious piece of art we just can't get enough of. This short whip of a song will be ideal for wild festival parties and packed venues alike. Think of the B52's and add a slow soca beat… and a bottle of Trinidadian rum. Can't go wrong, can it?!
Why does it feel
like a race to your heart?
Like a tick tick boom
Now it's shut
Try to play it cool
but I'm not
I'm a fool
for all that you've got

'Scared of Love', Fallulah
The album, however, also carries a more serious side. It sneaks under your skin already during the opening track 'Bloodline'. As you listen to the lyrics you realize the depth of a whole family history rolled out. Fallulah dedicates verses to her grandma, her mother and late father, and to her baby girl. The song ties the ends of life through the artist's bloodline, hence the name.
But it is not just her own family history. Like fellow Dane Lukas Graham did with his song '7 years', Fallulah has written a song that invites fans to sing along, recognize, and feel the same, while thinking about their beloved family members. This is what makes a good pop song great!
Feels like a warm embrace of emotional depth
Fallulah stands out as a strong and independent woman, fully capable of kicking balls in a business increasingly described as sexist and somewhat misogynistic at times. But just as sharp and tough she writes, her soft and mindful sides shine through too. Songs like 'Sunsets', 'All These Daydreams' and the glorious 'Please Don't Move to LA' show an artist with tremendous emotional depth and an exuberant vocal capacity.
The album finale 'Don't Die with Your Dreams' completes this excellent production in the most grandiose way. The perfect encore sends people home with something to think about, something to be truly grateful for. Mainly, that life is all in your hands. So don't waste it!
Harmoniously dysfunctional
Somehow the Dane masters both the wild and untamed and at the same time the strictly controlled and balanced. For example, the track 'Dysfunctional'. It sort of stumbles at first and then emerges into what could be a beautiful Ruelle ballad. From the seconds before the first kiss to the all-too-short attempt to control the situation before the roaring romance unfolds.
Dysfunctional maybe, but harmonious and utterly brilliant, why Fallulah's album 'All My Eyes Are Open' is on the 2020 shortlist of "Album of the Year" at Latebar.
Don't let your dreams die inside of you
Just give them water and let them bloom

'Don't Die with Your Dreams', Fallulah