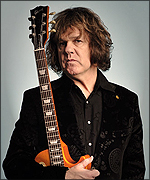 38 years after his first solo record release (1973) one of Belfast's most famous guitarists ever died in Spain. According to Wikipedia Gary Moore died on February 6th 2011 in his sleep while vacating in a hotel.
The former member of Thin Lizzy and Skid Row leaves behind a great vacuum to thousands of dedicated fans and guitar lovers along with a smashing career that provided the world with numerous outstanding tunes and performances.
Belfast Telegraph: "Rock legend Gary Moore found dead"
Irish Times: "Former Thin Lizzy guitarist Moore dies"
BBC: "Rock guitarist Gary Moore dies"
SkyNews: "Thin Lizzy Guitarist Gary Moore Dies"
Personally I have no further words to add. So we'll let Gary take it the last leg. Thanks Bob!