Super 8 Cynics debuts with Gervais cover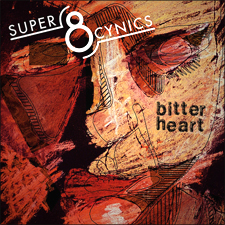 Manchester-based Super 8 Cynics takes everything you love about the music of the 80s, makes it their own and kicks some serious iconic and ironic ass. Starting with a brilliant cover version of "Bitter Heart" by 80s pop duo Seona Dancing. (We'll get to the album in a later post.)
It's been a while since we first laid ears on "Bitter Heart" by Super 8 Cynics, and it was love at first sound. We're happy to finally see the single out and about in real life! So first of all congratulations to the band for making it happen.
We had never heard about Seona Dancing until we heard the cover, and you would probably have to be a hardcore 80s music afficionado to remember the short-lived duo. Comedian Ricky Gervais started the band in 1982 with his friend Bill Macrae, and they went their separate ways in 1984.
"Bitter Heart" was released in 1983 – went to no. 79 on the UK Singles Chart, and Gervais (whose alter ego David Brent later picked up a "career" as a pop singer in the British hit comedy series "The Office") soon went on to bigger and better things. (For which we are all grateful.)
Super 8 Cynics came across the song by coincidence, and Singer Ady Hall saw its potential through the massive amounts of 80s makeup, fog and hairspray. He liked the lyrics and thought the song deserved a 21st century renaissance. The band started experimenting in the studio and were so excited about the result, they started looking into what it would take to get the rights to publish it as a single.
Ricky Gervais was quick to give the green light, but his Seona Dancing partner, Bill Macrae, turned out to be a little harder to find.
In November 2011 Ady Hall told us,
"[Back in the 80s] Seona Dancing was signed to London Records and now Universal Music owns 100% of the publishing rights to the song. We contacted them to ask for permission to release our version.  They said that because we'd make some changes to the arrangement we needed consent from the writers as well as the publishers. This is where we ran into the first hurdles.
The song was written by Ricky Gervais and Bill Macrae. They [Universal Music] knew how to contact Gervais but had no idea how to reach Macrae. They even asked Gervais if he knew but he didn't.
So we set out to find Macrae ourselves. We spoke to many people but we came to a dead end after a while, so we hired a detective to find Bill Macrae!! They found an address for us and we sent him a nice letter with the track and a copy of our debut album."
With permission to publish the single in hand, the band set out to find a record label, and in April 2012, Super 8 Cynics signed with UK based Longevity Records.
"Bitter Heart" was released August 6. It is the first track to be published from the upcoming debut album. (Album release details to be determined. We've had a listen to the full album – it's AMAZING! We will reveal more later.) While the single has already received positive attention from both BBC Radio, UK comedy guide Chortle, and dailies and bloggers around the UK and Europe, synth player Mike Healey takes the fuss with British self irony. Here's what he has to say about it on Facebook:
"If it all goes wrong can we say that Ady was actually the guy inside the Alf suit, from the seminally turgid TV show. He decided to cover Bitter Heart after a chance encounter with the guy from Police Academy who makes all the silly noises in a New York bar, whilst Ady was on his honeymoon. Ady put 10c in a jukebox and sat down next to Linz [Ady's wife, Lindsay] and the Police Academy guy, who smiled a heartening smile to Ady. The Police Academy guy then did an awesome beatbox version of Bitter Heart, projecting his voice so it appeared to be coming from the Jukebox. Linz then said to Ady "Och! Ya should form a wee pop band and cover this Ady!" Police Academy guy then walked out of the bar, his job was finished."
We'll let you be the judge. Shoulder pads and eyeliners at the ready?
And for reference, the original Seona Dancing version:
The single is now available here:
www.itunes.com
www.amazon.co.uk
www.hmvdigital.com
www.7digital.com
www.play.com