Alarmingly Happy Penguins back to base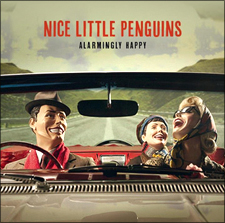 Danish pop veterans Nice Little Penguins are back – arguably better than ever. Cutting straight to the chase – here is why Latebar is thrilled to recommend the band's sixth studio album 'Alarmingly Happy' to fans worldwide. A publication surely aimed at people with a weak spot for immaculate pop played with real instruments by real musicians.
With its 12 very different songs, 'Alarmingly Happy' reaches all the way back to the first Penguin tunes heard in the early 90s. Embracing the years between then and now, this album peels away frills and enhances the original and true sound of Nice Little Penguins (NLP).
Back then Bo Feierskov and the two Kolster brothers – Michael and Carsten – circled around the very core construct of the "good" pop song staying loyal to the instrumentation and most often ending up with a product delicately alluring the listener in on the journey.
Almost all 12 tracks on NLP's sixth studio album left us humming patterns of the recorded instruments or even adding new ones while listening. That is involving/activating the listener and why this band remains exceedingly popular among its fans to this day. As when NLP in the early days thrived on the obvious benefits from fans knowing the songs inside out, the new songs simply stay with you long time after you closed down your laptop or turned off the car. Only a few Danish pop bands are capable of doing so.
That said, NLP still looks forward without neglecting the past. At good example is the track 'Grateful' where the clear sound of ukelele (two ukuleles in fact) underlines that, despite what many reviewers think, it actually is possible to write more than one song with the Hawaiian traditional.
[soundcloud url="http://api.soundcloud.com/tracks/26687151″ params="auto_play=false&show_artwork=false&color=ff7700″ width="100%" height="166″ iframe="true" /]
'Alarmingly Happy' definitely allows new listeners to step onto the Penguin cruise here. But for the many loyal fans there is also plenty of cool details enveloped. First of all the the album cover. It simply is the best looking Penguin cover ever – sad, serious, fun, happy and all in all loveable. NLP has furthermore listened to the countless number of musicians asking for notes and keys to their music and printed chords in the sleeve next to texts. Brilliant move!
The really hardcore fans will notice tracks 'Jewel' and 'Did you ever' right away. Both were previously published on the 2008 album 'Som en rejse' – NLP's only album with Danish texts so far. Both unmistakably Penguin songs, but significantly lifted by the Anglofication.
Hopefully Nice Little Penguins will return to extensive touring like in the old days. Because that is where tunes like 'One Life', 'Sleepy Sunday' and the hit-single 'Love Is A Rainbow' – previously mentioned here on Latebar – really come to life.
Nice Little Penguins is a good studio band – but a great live experience!
'Alarmingly Happy' was released on August 13th (2012) and can be purchased on Amazon and iTunes.
Tracklist looks as follows:
1. Alarmingly Happy
2. One Life
3. Love Is A Rainbow
4. Sleepy Sunday
5. Grateful
6. Jewel
7. Did You Ever
8. I Will Follow You
9. The Peacock
10. To Be In A Coma
11. I Am Cupid
12. Bless This Land
Bon Appetit!