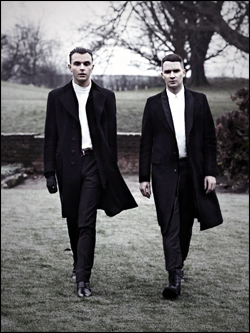 Sure Hurts better than love – that was the title of a previous post here on the Latebar-blog praising an at the time breaking-through melodic new wave outfit.
With a short Facebook note specifically aimed at its growing crowd of Danish fans the British duo recently announced a release date of a new album – 'Exile'.
Hurts' second album will be in the shops – both offline and online – on March 10, 2013. However easy the pre-order may be, the two pop-wizards of Richmond and Manchester have almost already sold-out their entire European Tour starting in London March 7.
An easy guess is there will be more dates in the Exile-calender soon.
With the FB-note a link to the first single 'Miracle' was attached. Start here – you will recognize the rather unique sound right away.
Hurts single 'Miracle' from the 2013 album 'Exile'.
Hurts managed to turn some heads Europe with their debut album 'Happiness' in late 2010 with a soft and slightly melancholic pop-thread, that noone had heard the likes of for more than two decades. Before that time music divided listeners into pop-nerds and tough rock'n'roll bad-asses – one group despising the other.
Responsible for ending that in many ways premature era of musical segmentation was Depeche Mode. Holding on to love and hope DM took pop away from the worry-free summer beaches into the dark back alley of the subconscious self. Into the core to meet the demons of depression, fear and anxiety face-to-face – in opposition to others hiding cowardly behind a wall of loud heavily distorted guitars or denying the realities of life keeping up appearances while zealously checking out waxed hairdos every five minutes.
That reality-relay was picked up by Theo Hutchcraft and Adam Anderson. And it is perhaps more important today than ever. Listening to the first pre-release of the song 'The Road' it is clear that the two Brits dare go into that necessary darkness and use pop music as the torch of life.
Well, I will swallow all of my wanna-be-poetic babble in this post and just send this message to Adam and Theo: Thanks!!
We at Latebar feel sure that 'Exile' will exceed the predecessor's (Happiness, 2010) over one million sold albums.
Listen to 'The Road' full length.
You can already pre-order 'Exile' or buy 'The Road' and 'Miracle' in iTunes Store.