Discovering Super 8 Cynics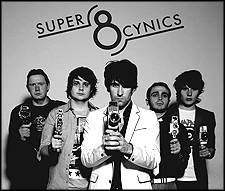 I just found a new band I think might make it onto my list of favorite boys. Super 8 Cynics from my old stomping grounds in Merseyside/Lancashire in the UK.
The band is so brand new it doesn't even have a wikipedia entry yet – but I can throw you this bone I found in an interview in the Burnley Express from June this year.
Musical influences include as diverse a crowd as Metallica, Duran Duran (who were recently bumped to second place on my "laminated list" to make room for new #1 crush: Alan Rickman), The Cure, Queen and Guns'N'Roses.
I won't write much now – mostly because I haven't been able to find a whole lot more than the above. Hopefully that'll change soon.
You can listen to the appetizers from their upcoming studio album on their website and on their MySpace profile. Or just click "Play" below!