Melissa Polinar – a perfect grey Sunday soundtrack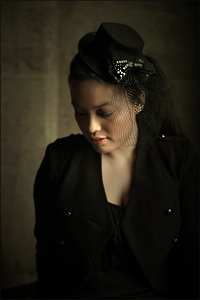 We realized something awful today: Latebar is fiercely dominated by male artists and bands! Wonderful boys, obviously, and we love them all equally! But we need more girls to visit the bar, so on that note, I would like to introduce you to Melissa Polinar.
We came across her video "Sing to me" on YouTube, (long story, can't be bothered accounting for the details), and immediately fell in love.
All the videos on her YouTube channel have served as our feel-good soundtrack to a grey Danish Sunday, all morning and way into the afternoon, and they have assisted the cappucinos and candles in keeping us warm.
She masters a mix of her own original songs and covers of various artists with an equally unpolished and honest nerve. I love the videos of her alone with her guitar, and I especially love this duet with her cousin, Jesse Barrera:
It has been difficult to find anything written about this Ft. Worth, TX girl in any European media, but here are a few facts we found in our preliminary googling efforts:
According to her official website, she has released a few singles and two EPs, "Sound Vault Sessions", and "As of now" – all available on iTunes, Amazon and bigcartel.
She manages her own bookings but currently has no shows or events on her calendar (whywhywhy??? And is she planning a European tour?).
She contributed to the 2010 version of "We are the World 25 for Haiti (YouTube edition)".
According to an interview on Key of Grey, she has had classical training on the violin but no vocal, guitar or piano training – she is self taught in those departments.
We'll try to dig up more gems for you. For now, we hope this makes your Sunday sunny, no matter how grey it may be where you are.