Sting propelled by a Fiction Plane
For a mere 5,000 people in the beautiful town of Sønderborg in southern Denmark an exclusive visit by none other than Sir Gordon Matthew Thomas Sumner (known to most as Sting) turned into one of the most memorable evenings of all time. Bringing along his son, Joe Sumner, just nudged the event beyond comprehension.
Seldom have we at Latebar experienced artists able to grip the entire crowd from the outset and retain full attention throughout an entire evening. At some point during the event I swear noone in the crowd uttered a word.
This truly was one of these rare 6 out of 6 stars events!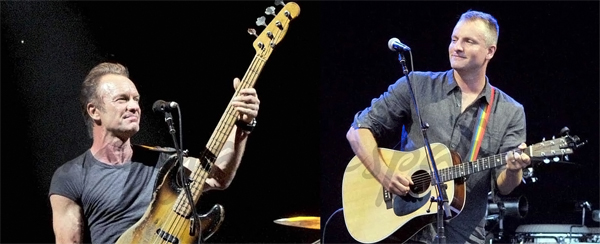 Sting and son, Joe Sumner. Photo by magazinespain.com 2016
Joe Sumner is the 40-year-old son of Sting. Joe usually plays with his own outfit, Fiction Plane. However, he occasionally supports his father on his endeavors around the world.
At exactly 8 o'clock Sting and his band (Josh Freese + Dominic and Rufus Miller) entered the stage along with Joe to play 'Heading South on the Great North Road'. Instant focus from the crowd!
After this, everybody left the stage again, leaving Joe Sumner and a guitar to entertain for half an hour. Playing a number of Fiction Plane songs in unplugged versions created just the right pub atmosphere required on such a sunny summer evening. A brilliant way to introduce these songs to the Danish crowd, perhaps still somewhat unfamiliar with Fiction Plane.
As controlled by invisible clockwork, Joe finished just in time to leave the stage… and re-enter with his father and band to start the main event at exactly 20:45.
What followed from there was pure magic for almost two hours. Crystal-clear sound and world class instrument handling. With an elegant and slightly jazzy touch in 'Message in a bottle' to an energetic and ultra-tight beat in 'Next to you', Josh Freese gave any young aspiring drummer in the crowd some serious homework, while Dominic Miller and his son, Rufus, tailored everything exquisitely together, accentuating the front man to perfection.
I believe I can still count on one hand the number of times I have seen and heard anything this sublime.
A few songs into the concert, Percy Cardona entered the stage with his accordion. He is part of the outfit, The Last Bandoleros, often supporting Sting too. Like everything else that evening, he just blended in and added an extra dimension to the party – and perhaps melted a few hearts among the female part of the crowd too ;).
It is really hard to point out a climax during this concert. However, I noticed a tear of joy and gratitude among people standing next to me when Sting left the mic til Joe, who then performed a glorious version of the eternal hit 'Ashes to Ashes' by David Bowie.
Nothing to put a critics finger on this evening. Except from: You should have been there 🙂
The set list for the 27 June 2017 gig in Mølleparken, Sønderborg:
1) Heading South on the Great North Road
2) Synchronicity II
3) Spirits in the Material World
4) Englishman in New York
5) I Can't Stop Thinking About You
6) Every Little Thing She Does Is Magic
7) One Fine Day
8) She's Too Good for Me
9) Mad About You
10) Fields of Gold
11) Shape of My Heart
12) Petrol Head
13) Message in a Bottle
14) Ashes to Ashes (Bowie tribute)
15) 50,000
16) Walking on the Moon
17) So Lonely
18) Desert Rose
19) Roxanne + Ain't No Sunshine
20) Next to You
21) Every Breath You Take
22) Fragile
P.S.: Keep an eye out for Joe Sumner's band, Fiction Plane (link to official fan club). They might play a venue near you!