New Penguin album – with old songs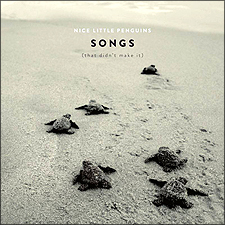 How often do you come across an entire album of songs that never were meant to be released? Well, here is one – Danish pop band 'Nice Little Penguins' presents 'Songs – that didn't make it'.
30 years ago brothers Michael and Carsten Kolster and their friend Bo Feierskov started playing together. Since that time the band of three, Nice Little Penguins, has put together a total of six studio albums, made at least one international hit – the summer signature song 'Flying' – and toured more than a few countries in Europe and even made a trip to Asia.
Now the band has released their seventh album. But this is somewhat different from the previous six.
Despite relatively few published works over three decades, the band has in fact been very productive when it comes to writing new songs. According to lead singer Bo Feierskov, more than a 100 songs remain in the drawer. And it is 15 of these previously unreleased "drawer tracks" that now (finally) make it to a new album – 'Songs – that didn't make it'.
"The truth is that these songs just didn't fit in at the time they were written," Bo Feierskov explains. "Sometimes you just find yourself with too many up-beat, mid-tempo or ballad songs for an album."
"Also, as any professional musician has experienced at some point during their career, a lot of other people are often all too busy interfering with which tracks do or don't make it to an album. Sometimes we couldn't even agree in the band internally. But for some reason the songs kept popping up".
The majority of the songs have been written somewhere between 1996 and 2006, and in a way this leaves the album without a common thread. Some might even say 'Songs' is just a collection of songs. In this period the three-man-band, however, grew into a quartet as their sound engineer Hans Henrik Praestbro joined the band on keyboards. And Praestbro has more than one key role to play in 'Songs'.
"Actually Hans was the one to come up with the idea to have these 15 songs properly produced and published," says Feierskov. "When we were recording 'Alarmingly Happy' he showed up one day with a lot of old demos. And so we spent some time listening to them again. Some tracks Hans would just mix right away while others had vocals or other stuff re-written or re-recorded. I believe this was when we realized just how much we actually have in the backlog".
'Songs' is not released with a million dollar marketing budget or any planned PR tour. In that regard it is just a collection of tracks for fans world wide to enjoy.
"Maybe there's a hit in there, who knows. But even if there's not, I just hope fans get a thrill out of an album not quite as polished and clean as our previous works. Some songs on the album are almost folk songs while others are loaded with some rock guitars," says Feierskov.
'Songs' released on March 3, 2014 and the track list is as follows:
1. The Ocean
2. Crazy World
3. Amazing
4. How Long
5. Spinning
6. Give Me A Reason
7. Happy People
8. It's A Great Day
9. Sorry
10. Love Is The Reason
11. Like A Free Bird
12. I Can't Say
13. You're My Heartbeat
14. I Don't Know
15. Save'em For A Rainy Day
The album is so far available on both iTunes Store and Amazon: