Ei8ht – Kershaw to infinity and beyond
Since August 6, 2012, we have been listening carefully to the new studio album 'Ei8ht' by British virtuoso, Nik Kershaw. Stunned by the brightness of this arguably most well-written harmonic Kershaw-album to this date, we simply didn't know what to write.
So bear with us… Better late than never. Here follows a poor attempt to say something quasi-qualified anyway.
Ready?…
"WE… ARE… STUNNED!!!"
– – – –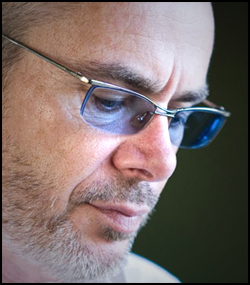 Nik Kershaw must be regarded as one of the most skilled singer-songwriters in his home country. Almost three decades ago the now 54 year-old Ipswich-star published his first album – 'Human Racing' – a renowned masterpiece of its time. And within just five years he published a staggering four albums, all consolidating his place in the all-time British hall-of-fame.
But then all suddenly went quiet!
Gone from the spotlight, the red carpets, the blitzing cameras, and the front pages of the glittering magazines, fans had to wait in despair for 10 years before Kershaw finally published works in his own name again. Allegedly doing so only because he couldn't imagine anyone else would want to publish the songs.
'15 minutes', however, marked the beginning of a new era. A new and far more matured Nik Kershaw reflected much more about his own place in this world. Often commenting on or even talking to his own inner demons and settling with himself, Nik stepped back from red carpet and into his living room at home – so to speak. Entering a space where a person is free to do as he or she pleases. In a way this served to raise Kershaw to another new, smaller but much more solid fame. He didn't need to prove anything or look star-like in photos, and Nik's true fans returned. And, mind you, not the ones only caring about the fame, but those who have always loved the music and the way it is carefully crafted and masterfully carried out.
Another four albums later we stand blessed with 'Ei8ht'. In Latebar's opinion – the best Nik Kershaw studio album so far!
11 new tracks found their way into this album. All with their different stories and all filled with smashing instrumental arrangements and second-to-none lyrics like:
If you leave me, can I come too
Can I jump aboard and ride with you
Together we'd be starting new
Without me in the way
If you leave me, can I come too
Can I be the one to tell him he's done
Runaway from me – with me
Simple?!… Yeah… Naive?!.. Sure… Unworldly?!… Not at all, are you crazy – quite the opposite!
Among fans, however, the "matured" Nik Kershaw is known to be quite the self-critic, often exposing himself, complete with flaws, faults and everything. Things most of his audience can easily relate to. It seems immediate to think that the track 'Shoot me' is a finger pointed at his own previous self-pity – a trap familiar to most modern people.
He's run his course. He's run his race
The years are etched upon his face
What was his name?
What was his name?
The scores are in, the bets are off
He's had his fill, he's had enough
A cryin' shame
A cryin' shame

If I ever get like that
Shoot me!
One cannot help but feel encouraged and cheered up by lyrics like that. I am surely not the only one feeling exactly like this every now and then.
The first single 'The Sky's The Limit' does the same – although in a different and more subtle way. As a song to one or more of his children (so we think) or perhaps a retrospective of his own youth, this song could easily be aimed at anyone of the fans lacking a bit of courage.

'The Sky's The Limit' from the 2012-album 'Ei8ht' by Nik Kershaw
Like every other Kershaw album 'Ei8ht' is filled with an abundance of instrumental details, lovely fills and enveloped harmonies. It must be extremely satisfying for any musician to participate in performing pop compositions written with such spaciousness. Personally this is why this 5ft 4 British wizard keeps on ensnaring me – even after three decades.
From the hard-not-to-let-off-steam-and-dance-to 'These Tears' to the spot-on comment on today's consumer society in 'Stuff'.
From the folk-waltzing and highly poetic 'Red Strand' to the Bryan Adams-like 'Rock of Ages'.
From the praising Huzzahs in 'You're The Best' to the squeezing hug of life in both 'Enjoy the Ride' and 'The Bell'.
Nik, if you read this:
You're the best, You're the best
We confess it, we're impressed
You're amazing
Were we to give stars in this blog, 'Ei8ht' would be a 6 of 6. We hope the tour exceeds the Ei8ht+1 gigs in the UK and extends to cover the mainland too.
Keep on rockin' 🙂
Tracklist on 'Ei8ht':
1. These Tears
2. The Sky's The Limit
3. Runaway
4. Shoot Me
5. Bad Day You're Having
6. Red Strand
7. Enjoy The Ride
8. You're The Best
9. Stuff
10. Rock Of Ages
11. The Bell
12. The Sky's The Limit (Radio edit)
'Ei8ht' is available from:
– The official Nik Kershaw Shop
– Amazon (of course)
– iTunes store (obviously)