Nik Kershaw best with 'no frills'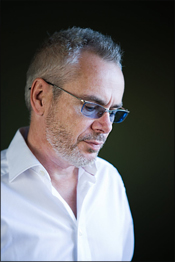 I finally managed to get my hands on Nik Kershaw's 2009 album "No Frills". I can only blame myself and utter series of bad excuses while making bite marks in the living room table. BUT… now it is in my collection with all the previous albums by my all-time favorite songwriter/composer and producer 🙂
As the title "No Frills" state, this album is nothing but Nik. 15 songs with guitar and vocal only…Well, except the Boss RC20XL loop station of course *hehe*.
This is Nik Kershaw! – Nothing more… and dare I say nothing less.
Let me just say it out loud – This album is a pop masterpiece!
A mix of both new and old tunes flow through the album like they were contemporaries (25 years between new and old). But with this album it really becomes obvious, that the 80's teen idol is perhaps one of the best pop songwriters of our time – and better now than he ever was.
Kershaw's newer albums "15 minutes", "To Be Frank" and "You've Got to Laugh" are clearly more thought through productions with the man himself in complete charge. Songs like 'Wounded' and 'Billy' in the new acoustic versions sounds alot like their original studio album versions… But with no frills, of course.
Where "No Frills" becomes really, really interesting is the re-recordings of the evergreen classics: 'The Riddle', 'Wouldn't it be good', 'Don Quixote', 'Dancing Girls' and 'I won't let the sun go down'. To me these have never sounded better. Especially 'Dancing Girls' has been tweaked quite a bit making the story within stand out much more. Marvellous!
I still recall an evening with Nik early 2009 at the Danish club 'Fermaten' (Herning City), where it struck me midway through the concert just how skilled this guy is. I'm sure many guitarists can play what Kershaw does. But to be able to compose and even re-compose old and established evergreens…
And then of course – no real compilation of Nik Kershaw titles without something new for the fans 😉
Buy the album and find out for yourself. I recommend you go directly to Nik's official website and buy "No Frills" right away. You'll thank me later!
Meanwhile I will leave you with 'Don Quixote' where both Nik, his guitar and the Boss loop station is in action. And then hope Shorthouse Records will allow us this copyright exception.
More about Nik:
– Nik Kershaw (Official Website)
– Follow Nik on Twitter
– Wikipedia